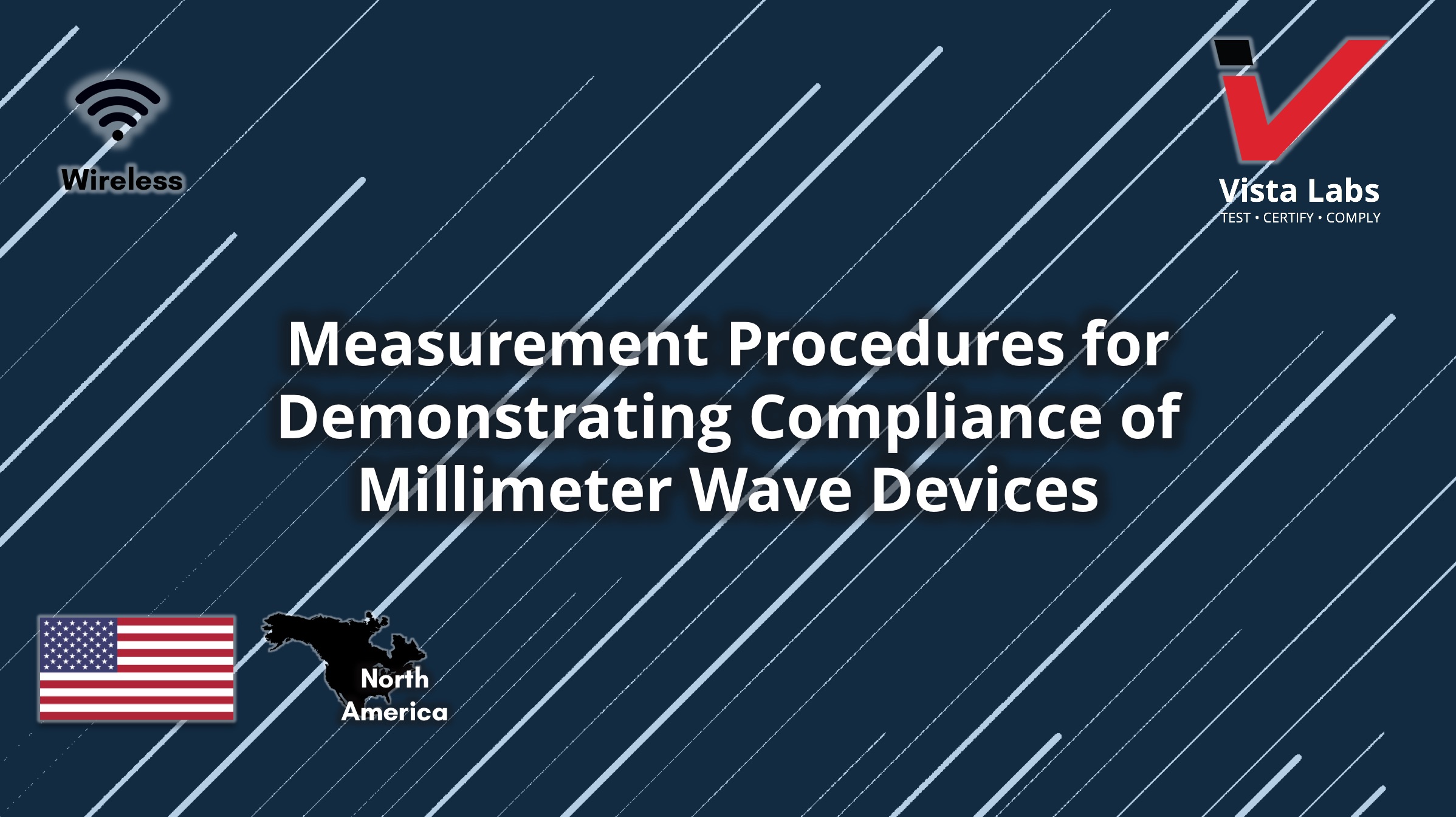 ---
Posted on April 5, 2019 at 5:26 PM
---
The Federal Communications Commission (FCC) of the United States provides guidance on the evaluation of millimeter wave (mmW) devices that are subject to Part 30 of the FCC rules.
Part 30 equipment authorization (certification) is available for the following types of devices:
| Equipment Class | Description | Device Type |
| --- | --- | --- |
| 5GB | Fixed Transmitter | Base stations |
| 5GM | Mobile Transmitter | Mobile stations (e.g. cell phones) |
| 5GT | Transportable Transmitter | Transportable stations – these devices are defined as being stationary while operating (e.g. customer premise equipment, local hubs, etc.) |
The following frequencies are available for assignment in the Upper Microwave Flexible Use Service:
24.25-24.45 GHz and 24.75-25.25 GHz bands: 24.25-24.35 GHz, 24.35-24.45 GHz, 24.75-24.85 GHz, 24.85-24.95 GHz, 24.95-25.05 GHz, 25.05-25.15 GHz, and 25.15-25.25 GHz
27.5 GHz-28.35 GHz band: 27.5-27.925 GHz, 27.925-28.35 GHz
38.6-40 GHz band
37-38.6 GHz band: 37.6-37.8 GHz, 37.8-38 GHz, 38-38.2 GHz, 38.2-38.4 GHz, and 38.4-38.6 GHz
47.2-48.2 GHz band: 47.2-47.4 GHz, 47.4-47.6 GHz, 47.6-47.8 GHz, 47.8-48.0 GHz, and 48.0-48.2 GHz
The following devices, operating under Section 30.201, may be authorized using the Supplier's Declaration of Conformity procedure:
Fixed point-to-point stations
Fixed point-to-multipoint hub stations
Fixed point-to-multipoint user stations
The manufacturer is required to perform all the necessary tests, retain the report, and submit to the FCC upon request.
Further information regarding testing requirements, equipment, set-up, and specific mmW device compliance measurement procedures can be found here.
---
Vista Labs is your global testing and certification provider. Our expansive testing capabilities and certification coverage will ensure that your product reaches your target markets.
Please don't hesitate to reach out and see how we can help your products obtain global approval.
Send Us Your Inquiries