Dynamic Frequency Selection
DFS is a feature that monitors the spectrum and selects a frequency for operation that is not already in use, to avoid causing interference to radio transmissions such as weather or military radar.
It is a function imposed by the International Telecommunication Union (ITU) for devices operating in the 5GHz UNII band, where the radar systems are guaranteed to have spectrum protection.
If the device detects that a radar is present, it must either select an alternative channel or enter a "sleep mode" if no channels are available.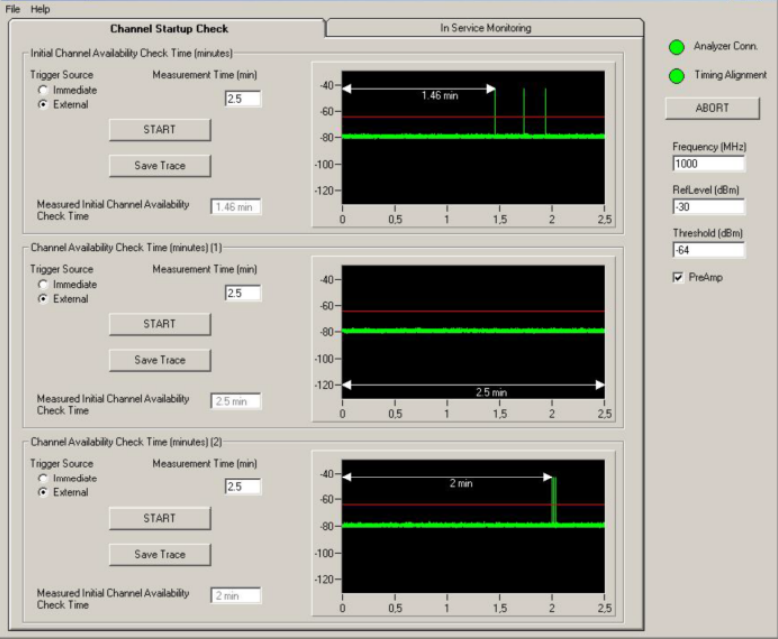 Our DFS test system supports the waveform playback mode allows to create standard-compliant or customized waveform files for DFS R&D or performance test.
It can support global DFS standards including FCC, ETSI, Japan MIC, Korean and China DFS standards with all compliant radar waveform types.
The Vista Labs Difference
Global DFS standards are supported, backed by advanced test equipment, experienced personnel, and our testing scope of accreditation.
Standardized or customized waveforms provide flexibility when performing DFS R&D or running performance tests.
One stop wireless service for DFS bands as well as other bands that are commonly involved with products operating in DFS bands.
We offer cost-effective solutions, flexible scheduling, excellent lead-times, and provide testing solutions. All testing and reporting is performed in a reasonable/timely manner, with your specific requirements in mind.
Dynamic Frequency Selection Capabilities
Region
Test Specification
FCC

FCC version 06-96 and version 13-22
Type 0-4 short pulse radar test waveforms (New Type 1 is defined in FCC 13-22)
Type 5 long pulse radar test waveforms
Type 6 frequency hopping radar test waveforms

ETSI

ETSI EN 301 893 V1.8.1
ETSI EN 302 502 v2.1.1

Japan

MIC W53 and W56 radar test signals

Korea

Type 1-3 fixed or variable radar profiles
Type 4 hopping radar profiles

China

Radar Type 1-4 are constant PRF based signals.
Radar Type 5 and 6 are single pulse based or packet based staggered PRF radar test signals using 2 or 3 different PRF values.