Electromagnetic Compatibility and Interference
Our state-of-the-art EMC test laboratory includes a 10m semi-anechoic chamber, a radiated immunity test chamber, conducted emissions testing system, and other conducted immunity testing systems.
Equipped with the most advanced measurement & test equipment, our lab is capable of testing frequency ranges of up to 120GHz and uniform field levels of 30 V/m.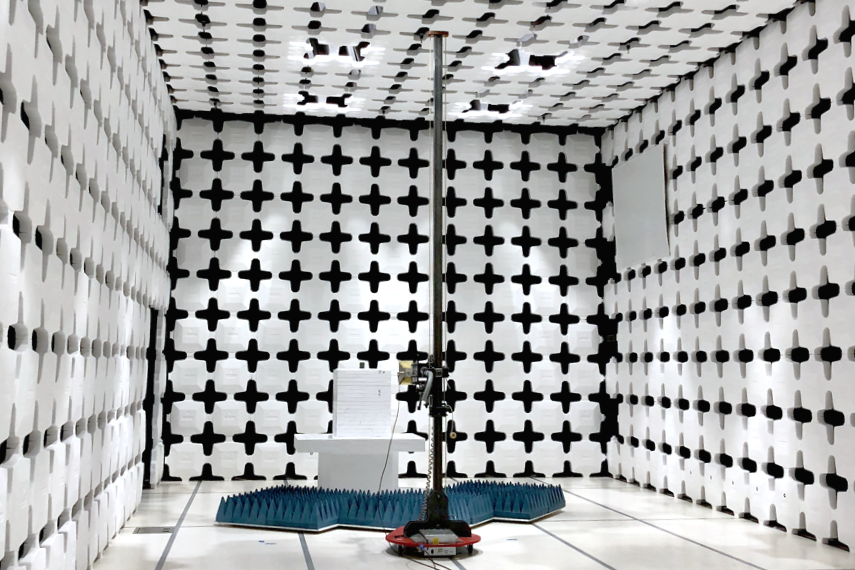 We use fully automated measurement & reporting software to ensure the accuracy of data acquisition, as well as fast test report generation.
The Vista Labs Difference
10m chamber measurement results and data are accepted by Taiwan and South Korea.
Software automation ensure that testing is performed efficiently.
Full suite of testing covering EMC/EMI emissions and immunity.
We offer cost-effective solutions, flexible scheduling, excellent lead-times, and provide testing solutions. All testing and reporting is performed in a reasonable/timely manner, with your specific requirements in mind.
EMC/EMI Testing Capabilities
| Test Item | Test Level | Typical Standard |
| --- | --- | --- |
| Radiated Emissions | 9KHz to 120 Ghz | CISPR22, CISPR32, EN 55022, EN 55032 EN 60601-1-2, FCC Part 15/Part18, ICES-003, VCCI |
| Conducted Emissions | 100-230VAC, 9KHz - 30MHz | CISPR22, CISPR32, EN 55022 EN 55032, EN 60601-1-2, FCC Part 15/Part18, ICES-003, VCCI |
| Harmonics and Flickers | 100-230VAC, 16A | EN 61000-3-2, EN 61000-3-3 |
| Radiated Immunity | Up to 30V, 0.15MHz to 80MHz | CISPR24, EN 55024, EN 60601-1-2, EN 61000-4-3 |
| Conducted Immunity | Up to 30V, 0.15MHz to 80MHz | CISPR24, EN 55024, EN 60601-1-2, EN 61000-4-3 |
| Electrostatic Discharge | 30kV | CISPR24, EN 55024, EN 60601-1-2, EN 61000-4-2 |
| EFT/B Immunity | 6KV | CISPR24, EN 55024, EN 60601-1-2, EN 61000-4-4 |
| Surge Immunity | 6KV | CISPR24, EN 55024, EN 60601-1-2, EN 61000-4-5 |
| Interruption and Dips | 100-230VAC | CISPR24, EN 55024, EN 60601-1-2, EN 61000-4-11 |
| Power Magnetic Fields | 50/60Hz, 100A/m | CISPR24, EN 55024, EN 60601-1-2, EN 61000-4-8 |