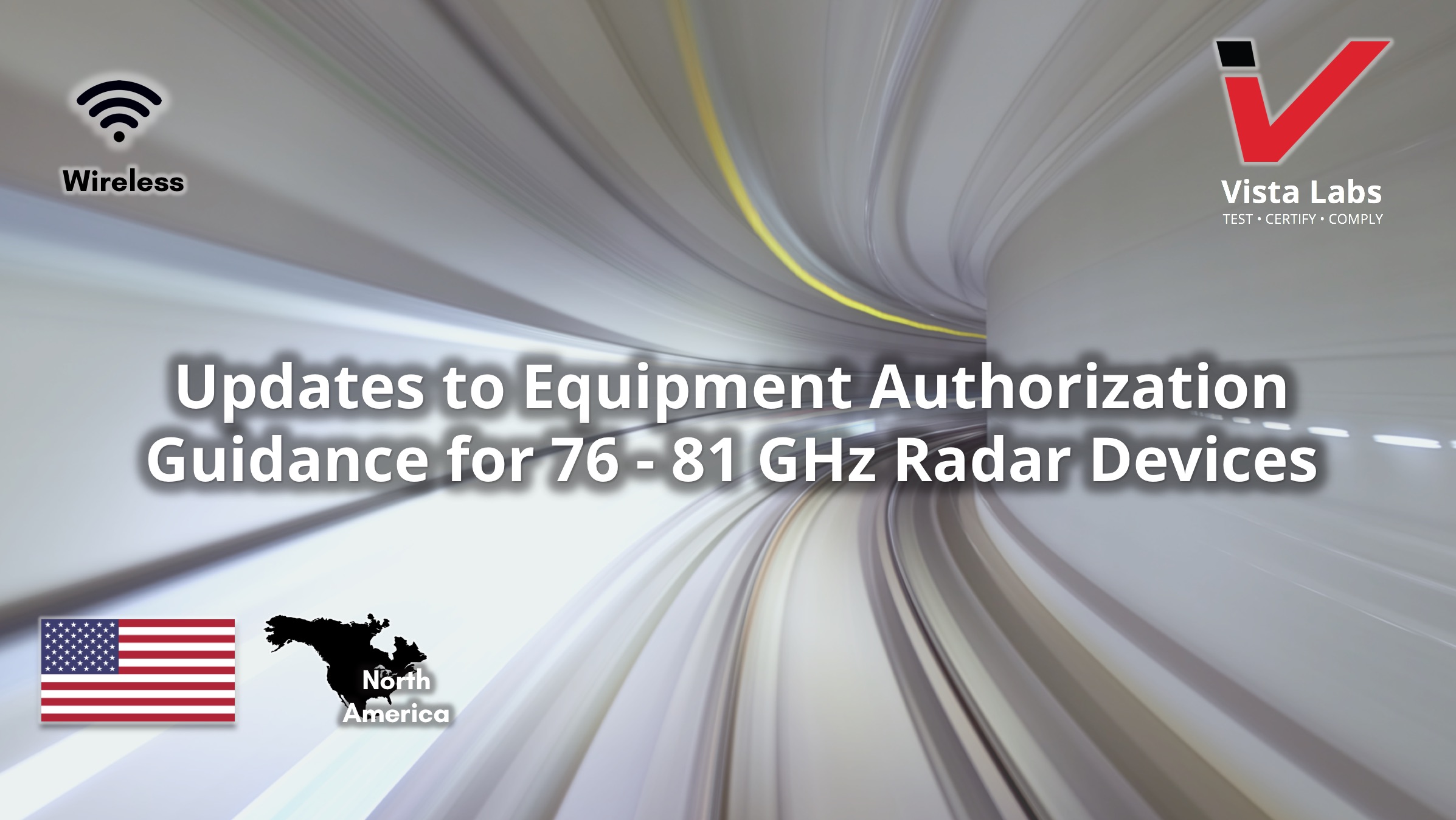 ---
Posted on April 12, 2019 at 5:42 PM
---
The Federal Communications Commission (FCC) of the United States provides updated guidance on the technical requirements for vehicular radars operating in the 76 to 81 GHz band under Part 95 Subpart M.
The updates are as follows:
Radar devices intended for vehicle in-cabin usage are not permitted under Part 15 and Part 95 Subpart M. Sensors deployed on, or mounted in terrestial automobiles are permitted under these rules.
As the certification of wideband radars designed to operate in the 23.12 – 29 GHz band (Section 15.252) and ultra-wideband vehicular radars designed to operate in the 22 – 29 GHz band (Section 15.515) is no longer permitted, the deadlines for transition have been updated.

Class II permissive changes are not permitted after January 1, 2022.
Manufacture, importation, marketing, sale, and installation are not permitted after January 1, 2022. The exemption to this is in the case of repairing/replacing defective 24 GHz wideband and UWB radar equipment already installed, where it is not possible to repair or replace the equipment with radar equipment designed to operate in the 76 - 81 GHz band.

Clarification that the radiated "peak" power limit applies to power spectral density.
Guidance regarding technical requirements has been expanded to include occupied bandwidth (OBW) and unwanted emissions measurements.
Further information regarding vehicular radars, certification rules/policies, and technical requirements can be found here.
---
Vista Labs is your global testing and certification provider. Our expansive testing capabilities and certification coverage will ensure that your product reaches your target markets.
Please don't hesitate to reach out and see how we can help your products obtain global approval.
Send Us Your Inquiries